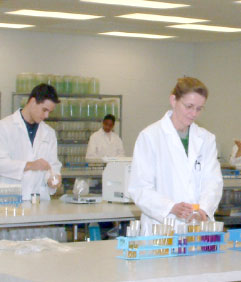 The history of DonLevy Laboratories is marked by steady, significant growth rooted in our commitment to quality and service. Our company was founded in 1993 as an independent food microbiology laboratory in Merrillville, Indiana, with just three employees. In 2005, we designed and built a technologically advanced food testing facility in Crown Point, Indiana. DonLevy Laboratories currently operates with a staff of approximately
one hundred twenty professionals and continues to grow.
Our 22,000 sq. ft. food laboratory is designed as a high volume food testing operation to meet increasing demand from a growing client base. Our facility features a work station environment that supports a logistical flow of samples and projects, an isolation area, and storage capacity for shelf life analysis samples.
DonLevy Laboratories delivers accurate and reliable test results by hiring experienced food industry professionals, providing superior technical support, and implementing a combination of established traditional and highly specific DNA and PCR methodologies.
The expertise and commitment of the staff at DonLevy Laboratories has proven to be the foundation of our success. The partnerships with our clients are based upon the staff's commitment to quality and customer service.
At DonLevy Laboratories, we protect product integrity and attain food safety goals by grounding our services in The Science of Prevention. As a result, our company has become a recognized resource throughout the nation's food industry.
DonLevy Laboratories strives to continue to grow as a national organization focused on food microbiology while building and sustaining strong client partnerships.