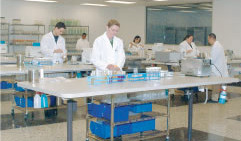 DonLevy Laboratories has grown from a small independent laboratory to a nationally recognized organization with a staff of approximately one hundred and twenty professionals including microbiologists, food industry veterans, and food safety experts.
Our staff is available seven days per week and 365 days per year. An astoundingly low personnel turnover rate ensures continuity in our operation and strengthens the loyalty of our clients.
We attribute the reliability and accuracy of test results to the expertise of our staff, a healthy mix of food industry veterans and technologically skilled microbiologists—individuals who are committed to their work and eager to serve our clients.