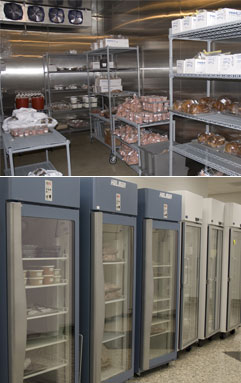 Shelf-Life Evaluations
Shelf life studies are specifically designed to meet the scope of a client's objectives, which typically involve the quality and stability of a product and its success in the market place.
DonLevy Laboratories performs shelf life studies on a wide range of food products.
Our laboratory generates accurate shelf life data that clients can then provide to their customers as required. Shelf life data is also essential in the process of product development.
Designing a shelf life study initially involves a detailed discussion to determine the target objective of the analysis. On occasion, an example of the product to be analyzed will be evaluated to determine the proper protocol for the study. DonLevy Laboratories will also perform the analyses on established study designs. A detailed study design and proposal are provided prior to initiation of the study.
Shelf life studies typically involve holding product at specified temperatures and testing for various microbiological, analytical, and organoleptic parameters at specified intervals. We use state-of-the-art chambers that control and measure temperature and light at either programmable or constant levels.
We generate useful laboratory reports for our clients. Our team of experts can provide assistance in interpretation of results, as well as suggestions and recommendations for extending shelf life.